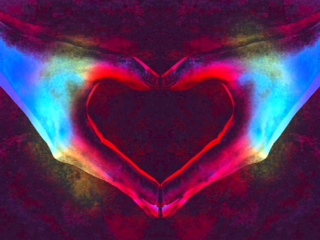 Last week was the final call of the Gift Marker Topic Series with Richard Unger.
In the spirit of this marker (the pure heart) I have decided to give this call to you as a year end holiday present.
What did we discuss?
We discussed the Pure heart type (which is a very rare gift marking). Scroll down to see an example. Though rare in its purest form, this type embodies the spirit of the year end festivities. All heart.
We also looked at Venus Stars of various types
A number of Richard's students interpret Venus stars as gift markers so it could be of value to get this information first hand, before all the bells and whistles get added or embroidered over his original interpretation.
We discussed why Richard doesn't consider the Venus star to be gift marker and we touched on a couple of different types of Venus stars and his interpretation of what each one means. Most importantly, we discussed in particular the wounded child star and also touched on the second circle star. Here is the video replay as a special holiday present from Earth School. (Join as free member to access it.)
The rest of the calls in this series are now available in the shop as individual classes or for students of hands as entire series.
Are you a pure heart? Here is what this heart line type looks like.
A clear, smooth, unbroken, un-braided heart line that sweeps right up to and touches the index finger. Very very rare!


We'll be doing an advanced print work class on all the above markers later today where listeners can send in hand prints with these markers.