Creativity shows up in your hands in a number of ways. For example, spatulate finger tips. Or lots of fiery crackly lines all over your hands. Or a rounded flame-like fire shape hand. Or long ring fingers. Or special lines that run up through your palm to towards your ring finger. All these indicate tremendous creativity, but the marker that tops them all is the Apollo Star – Rolls Royce of creativity markers.
That's a star-like formation underneath the ring finger.
Why is it called an Apollo star?
The ring finger and the region underneath it is named after Apollo, the Greek god associated with creativity, artistic perfection, showmanship and display. The star is like an explosion of energy in this creative zone.

Apollo stars require of their owners to step into the spotlight, live their unique expression and risk tomatoes.
When combined with other markers, it indicates a need to live these other talents in a high profile way,
on stage or doing group work or offering courses or seminars.
Here are some close ups of what this star looks like.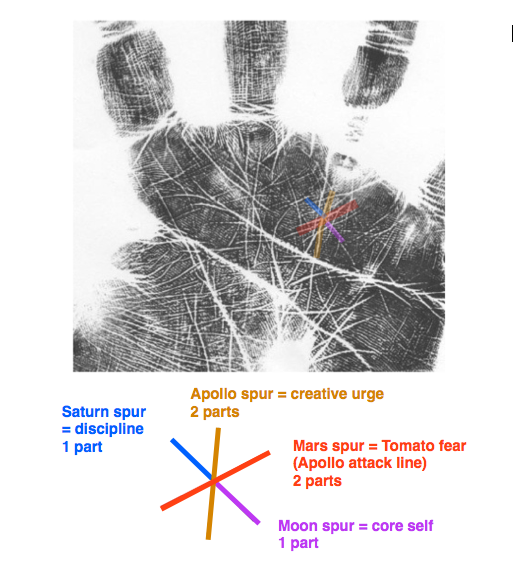 Sometimes there are Venus girdles that add other spurs to make an 8 pointed star –
adding extra sensitivity and emotional imagination to the mix.
More about the different spurs of the star and what they mean.
How the interpretation of the star changes with precise location and hand shape
How to make the most of your incredible gift?
The positive sides of the marker and call to action alerts when you don't use your tremendous potential.
Learn more about Apollo stars and hundreds of other markers in my hand analysis foundation classes.
– join here
I'm creative why don't I have this star?
You can't be missing a gift marker. The absence of the marker does not indicate an absence of creativity.
rather the star is a call to action to step into the spotlight.